Diets for Dogs
The historical record from the Mountain View Kennels, 1930-1947
Step into the past and bring something special to your dogs future.
Back cover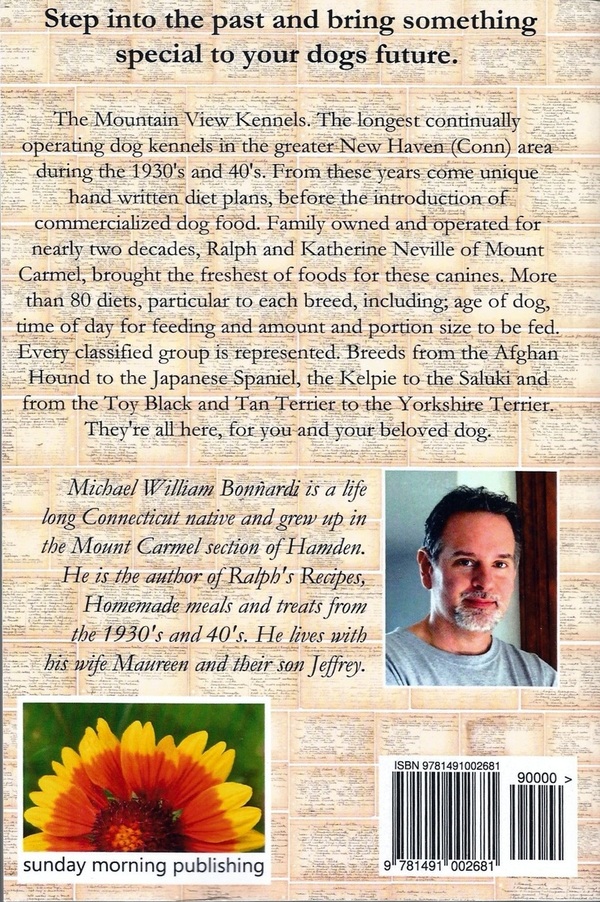 Or click below for Paypal
"The intent of Diets for Dogs is to share the knowledge that a kennel owner acquired from personal experience. Readers who want to learn about a hidden gem in Hamden's history won't be disappointed. Dog lovers will be fascinated by the love and dedication Mr. Neville showed towards his animals." - Beth Shutts, Archivist, Hamden Historical Society
The Mountain View Kennels. The longest continually operating dog kennels in the greater New Haven (Conn) area during the 1930's and 40's. From these years come unique hand written diet plans, before the introduction of commercialized dog food. Family owned and operated for nearly two decades, Ralph and Katherine Neville of Mount Carmel, brought the freshest of foods for these canines. More than 80 diets, particular to each breed, including; age of dog, time of day for feeding and amount and portion size to be fed. Every classified group is represented. Breeds from the Afghan Hound to the Japanese Spaniel, the Kelpie to the Saluki and from the Toy Black and Tan Terrier to the Yorkshire Terrier. They're all here, for you and your beloved dog.
Republican American Newspaper article:
Michael Bonnardi's interview from the Republican American Newspaper. Click on the image to enlarge.

Amazon.com Book Review !!!
Click on thumbnail to enalrge
Contact Us
68 Ramsey Ave




Naugatuck

,

CT

06770